Esmael H. Amjad, MD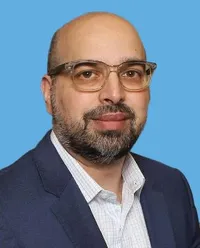 Dr. Esmael H. Amjad, MD
Dr. Esmael H. Amjad, M.D., was born in New York City and raised in Northern New Jersey. From high school he was accepted into the Penn State/Jefferson Medical College accelerated six-year BS/M.D. program. He moved to southeast Michigan for residency in Otolaryngology, Head and Neck Surgery at Wayne State University/DMC. Since completion in 2006, he has stayed in the area, caring for patients and teaching. He has authored several research articles and served as a clinical assistant professor at the Michigan State Osteopathic School of Medicine. In 2018 he was named a Top Doctor by Hour Detroit Magazine.
He is a member of the American Academy of Otolaryngology Head and Neck Surgery, the American Academy of Otolaryngologic Allergy, the Michigan Otolaryngologic Society, and a fellow of the American College of Surgeons.
Dr. Amjad practices all aspects of adult and pediatric otolaryngology. His interests include hearing loss, nasal obstruction/sinus and allergy issues, voice and thyroid surgery. He is well regarded for his dedication to his patient's health and well-being.
Outside of work, Dr. Amjad is a devoted Liverpool fan, and enjoys spending time with his wife and two sons and their gigantic Russian Blue cat. Dr. Amjad welcomes all inquiries about his training, skills, and areas of special interest.