Robert T. Standring, M.D.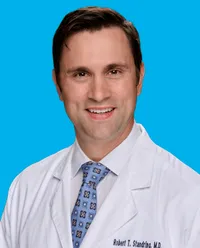 Robert T. Standring, M.D.
Dr. Standring was raised in Chicago area and did his training in Detroit at Henry Ford Hospital. He is Board Certified in
Otolaryngology/Head and Neck Surgery. He is actively involved in teaching his colleagues and students, is on staff at Oakland University and Michigan State University School of Medicine. He is a site director of the Ascension Otolaryngology residency program. He is the current President of the Michigan Otolaryngology society. He is a consultant for Stryker and gives national and international lectures on sinus and ear related topics. Dr. Standring has published multiple articles and book chapters in the medical literature. He is currently on the national Board of Govevnors Society Engagement Committee. Dr. Standring has participated in multiple foreign surgical/medical mission trips including Kenya and Vietnam.
Dr. Standring practices all aspects of otolaryngology (ENT). He has a special interest in ear and hearing disorders and surgery, hearing and hearing aids, nose and sinus disorders, pediatrics disorders (ear infections, tonsils and tubes), snoring and sleep apnea surgery, and voice disorders. Dr. Standring welcomes all inquiries about his training, skills, and areas of special interest.